OUR CHAIRMAN
Dr. Ishari K. Ganesh is an educationist, a philanthropist, an environmentalist, a sports enthusiast and a business magnate well-known for his innovative business ventures around the world. His multifarious business activities include projects valuing to several billions in India and abroad.
He was a vibrant student who championed in kabaddi and practiced acting during his school days. He groomed his leadership skills while he served as the School Pupil Leader of Bharat Senior Secondary School in the year 1981-82 and Hindu Senior Secondary School in the year 1982-83.
After completing his school education, he joined B. Com at Pachaiyappa's college, Chennai. Aside to his involvement in the entertainment industry in his teenage, he also contested in the Student Union Secretary Elections at Pachaiyappa's college. Despite the demise of his father during the second year of his college, his strong will and commitment led him to win the elections and he became the student union secretary of Pachaiyappa's College in the year 1987.
After he finished his college, he started his own college in the year 1992. With hard work and dedication as the only investment in hand, he established the Vaels Education Trust to run his own college of Pharmacy in a rented building with 36 students and 10 staff. He started one new institution every year to offer job-oriented courses to students that ensures immediate employability upon graduation. Today, The Vels Group of Institution is marching beyond 25 years successfully, with 30 institutions serving more than 25000 students with 5000 staff members offering courses from Pre-Kg to Ph.D., under one umbrella.
All the schools under the Vels Group of Schools are ranked number 1 by popular ranking bodies in India. The schools offer curriculums such as CBSE, CISCE and CAIE. In 2008, all the institutions under Vels Group of Institutions offering UG and PG programmes were combined by Ministry of Human Resource Development (Govt. of India), thus making Dr. Ishari K. Ganesh as the Youngest Founder Chancellor of a Deemed to be University in India.
He served as the President and Secretary of Sir Theagaraya College Trust Board, Chennai in the year 2003. In 2009, he became the Chairman of the Pachaiyappa's trust board, the same college where he studied his B. Com and M.Com.
He is also the first educationist in private education sector to offer Maritime and Nautical Science courses in India. To ensure that his students get hands on experience, he bought and installed a real ship in campus along with a full mission bridge simulator. Dr. Ishari K. Ganesh also runs 2 dental colleges and 1 Medical College in Chennai and Telangana. After 10 years of research and development, he launched the Kindle Kids International Curriculum that has been adopted by several preschools in India and abroad.
Being well-recognized for his philanthropic activities, Dr. Ishari K. Ganesh established a Palliative Care Hospital in Thalambur, off OMR, Chennai, in memory of his late father, Shri. Isari Velan. The hospital strives to relieve the suffering and improve the quality of life for patients with advanced illness. He also runs a medical institute in Telangana, that offers treatments and medicines to nearly 1500 patients on a daily basis, free of cost.
Financial assistance is given every month to poor cine artists through Nadigar Sangam from Amarar Isari Velan Charitable Trust Fund. Every year, on his father's Memorial Day he distributes free clothes to the poor. Apart from the financial contributions provided, around 560 students from various states and provinces in India are entirely funded by him to pursue education in the field of their choice at Vels University, every year. He also runs the Vels Swim School to train swimmers in India to compete in international competitions.
Dr. Ishari K. Ganesh involves himself in the development of women and their empowerment by organizing one-day market for Women Self Help Groups and by conducting training camps for them, annually. He also presents the 'Vels International Women Achiever Awards' to eminent women during Women's Day, every year. He has established 224 camps in Primary Health Centres in rural areas benefitting more than 42 thousand patients and also organizes free eye testing camps. He has conducted more than 24 free computer literacy programs for rural youth and 41 National level empowerment programmes, supporting 'Skill India Movement'. Recognizing his commitment to the development of rural women, he was invited to be the first eminent individual from Tamil Nadu to be nominated as a member of the Hindi Advisory Committee, reconstituted by the ministry of women and child development, Government of India in 2020.
Former president of India, Dr. APJ Abdul Kalam, has visited the Vels Group of Institutions more than once to address the students. Owing to the utmost respect towards the former president, Dr. Ishari K. Ganesh has made the vision of Dr. Kalam, as the mission of his university. He also drives the '1 crore tree plantation project', a green initiative by Abdul Kalam Foundation.
His interest in sports widened his perspective towards developing sports talents. He provides full fee concessions and free boarding & lodging for students with sports potential. Dr. Ishari K. Ganesh currently chairs as the President of Taekwondo Federation of India and Tamil Nadu State Taekwondo Association. He is also the Senior Vice President of and Tamil Nadu State Olympic Association and one of the eminent members of Tamil Nadu Sports Advisory Committee (SDAT).
As a deep spiritual person, he is also the member of Tirumala Tirupathi Devasthanam (Chennai). He enjoys travelling around the world as a hobby. His keenness to find opportunities to invest in international projects has resulted in establishing the Kindle Kids International School in Singapore and acquiring the Cambridge Tutors College in London. As the son of a renowned actor, venturing into film industry was a natural progression for Dr. Ishari K. Ganesh. As the best in what he leads, he is the Chairman of three production companies namely, Prabhudeva Studios, Vels Film International and G.V Films public limited.
Dr. Ishari K. Ganesh is married to Dr. Arthi and she supports the conglomerate's operations as the Pro-Chancellor of Vels University and Academic Advisor to Vels Group of Institutions. They are blessed with three children. Preethaa, their elder daughter, is finishing her Master's in Management at London School of Economics in London. Kushmitha, their younger daughter, is currently pursuing her Law Degree at Vellore Institute of Technology, Chennai. Sarvesh, their son is studying Grade-5 at Vaels International School, Chennai. Dr. Ishari K. Ganesh values his friends & friendship since his days as young student at school. Being recognized as one of the most influential persons in his circle, he has the network well maintained and connected to bring them all together every year during important moments.
He believes that Honesty, Hard Work and Dedication are the essential factors of success and advocates the same to young minds to practice them.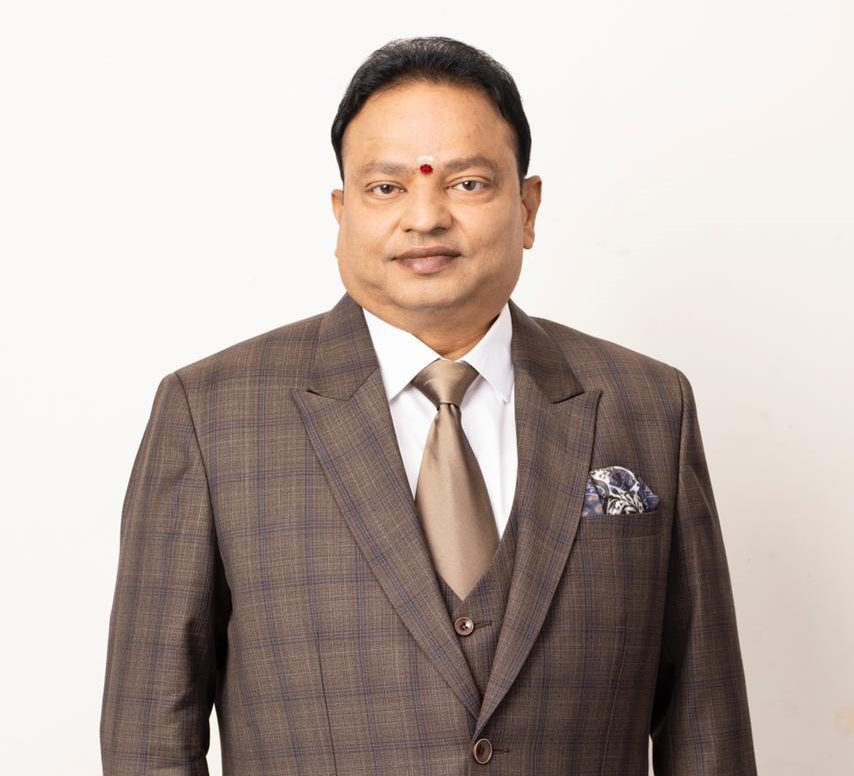 Dr. Ishari K. Ganesh
M.Com., MBA., B.L., M.L., Ph.D
Founder & Chancellor – Vels University (VISTAS)
Chairman – Vels Group of Institutions